Life outside the front door created a couple of adventures for me the last year. This blog was sadly neglected right along with the aquariums; circumstances beyond and whatnot. It seems Blogger underwent yet another renovation; good time to give Aqua~gillie a facelift. As with most things where creative control is not wide open, there will be tweeks.
10g~Shrimparium; Aponogeton ulvaceus,




Three tanks are running at the moment; two 10g and a 5g. Of the 10g, one is fish and the other shrimp. The 5g is meant to be a grow-out but life's adventures interrupted the plans.
10g Shrimparium:
Flourite Black substrate
Cryptocoryne lutea
Aponogeton ulvaceus
Aponogeton ulvaceus seedlings
Peacock moss wall
Mystery plant
Red Cherry Shrimp
10g~Fish:
80% gravel/20% Flourite black
Mopani driftwood
Anubias
Java Fern
maybe a stray C. lutea
1 adult Sunset Mollie ~ with a herd of babies
1 White Cloud Mountain minnow
2 American Ghost/Grass shrimp
1 Olive nerite snail
Malaysian Trumpet snails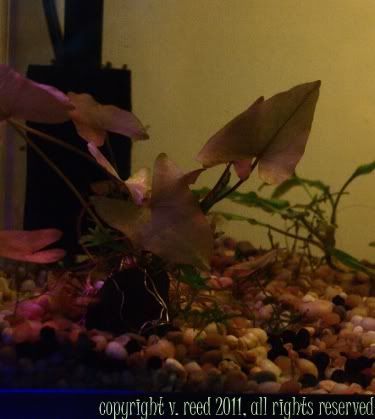 Tiger lotus
5g Grow-out:
Aquarium gravel
Peacock moss coconut husk
Cryptocoryne lutea baby plants
3 Marimo Cladophora aegagropila
Tiger lotus
more Red Cherry shrimp
After doing a moderate clean-up in all three tanks, things are returning to normal. The flourite in the 10g~Shrimparium needs a thorough vacuuming; it will have to wait until the A. ulvaceus seedlings are large enough to transplant into the grow-out and the mother plant dies back in about a month.
In the meantime, check out the
AQ Advisor link in the Tools section. In the short time this aquarium livestock tool has been available, almost a thousand freshwater species have been added as well as a salt water calculator and a new forum. Stop by and show the AQ Advisor some love!